Buy in bulk, shop seasonally and eat your (carrot) greens … Eco chef Tom Hunt shares his thrifty food tips, shopping lists and recipes for breakfast, lunch and dinner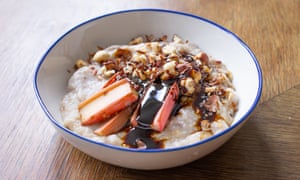 Food sustainability isn't just about protecting our environment, it's about protecting us, the consumers, and supporting the farmers who make our food.
Affordability is a key element of what a sustainable diet looks like. I call my approach Root to Fruit eating. It is a philosophy that aims to make it easier for people to cook good food, blending a little chef's knowhow with academic research, and making it applicable to home cooks and professionals alike. My shopping list comes in at just over £18 a week – cheaper than the average national weekly spend per person of £24. Over a year, that's a saving of about £300 while still enjoying top-quality food (I buy everything from my local independent health-food shop or market, or organic items from the supermarket. Of course, if you need to bring the cost of your shopping down further, buy non-organic). I'm a vegetarian, so there is no meat on my shopping list, and eating less meat is certainly a good way of keeping costs down. However, if you are buying meat, opt for cheaper cuts of higher-welfare animals.
Every head chef works to a tight budget to make a profit. When we invent a dish, we cost and portion it gram for gram to calculate a gross profit of 70-75%. So a dish we sell for £5 must cost less than £1.25 to make, including any waste, which we are always looking to minimise.
That margin is there to cover the cost of rent, staff, utilities and, if you're lucky, a profit. But chefs love good produce, so they devise other ways to keep their costs down, turning scraps that cost pennies into a fine meal for which patrons are happy to pay pounds. Noma, for example – one of the best restaurants in the world – serves cod's head as a main course. Taking on board a chef's thrift in the kitchen will help you save money while eating healthily and sustainably – as my guide and recipes show.
The weekly shop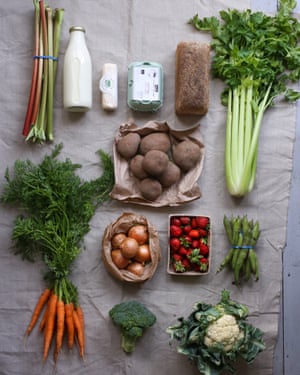 The best chefs will buy local and seasonal ingredients where possible. Pineapples and pomegranates are luxuries to be enjoyed, but base the bulk of your weekly shop on seasonal produce from the market or through a veg box scheme and you will have a double win, improving the taste and economy. Alongside your basics (eggs, milk, butter, cheese, bread etc) choose a variety of fresh fruit and vegetables including legumes, brassicas and roots.
Weekly shopping list
£1 6 onions
50p 1 head garlic
£1.50 1.5kg potatoes
£1.50 1 bunch roots with their tops – carrots, beetroot, celeriac etc
£1.50 1 bunch leafy greens or celery with leaves
£1.50 1 bunch beans – broad, runner etc
£2 2 heads brassicas – cauliflower, broccoli etc
£42 bags fruit
£2.70 6 eggs
£21 litre milk
£2 250g butter
£2100g cheese
£3.50 1 loaf wholemeal bread
Monthly shopping list
Budget: approx £50 a month for two
£1.05 250g sea salt
£1.79 40g pepper
£1.55 50 teabags
£2.60 1kg oats
£6.50 500ml olive oil
£2.80 500ml sunflower oil
£1.70 350ml vinegar – cider, malt etc
£1.99 1.5kg wholemeal flour
£6.30 2kg short-grain brown rice
£3 1.5kg dried pulses – kidney beans, chickpeas etc
£3.60 2kg grains – barley, spelt etc
£3.60 1kg dried lentils
£3.60 250g nuts and seeds
£2 375g raisins or other dried fruit
£1.30 40g spices – coriander, cumin etc
£1.30 500g whole wheat pasta
£1.70 700ml passata
£1.99 200g creamed coconut
£1.89 340g spread – honey, Marmite etc
Breakfast
American pancakes are a delicious breakfast and a real treat that take minutes to make and cost very little. Mix 75g of wholewheat flour with half a teaspoon of baking powder, a teaspoon of vinegar and 100ml of water. Then fry little pancakes in a pan with the slightest drop of oil and serve with honey, jam or fruit.
Sample recipe:
Porridge with roasted rhubarb, hazelnuts and molasses
1 portion = 50p
Porridge is no longer thought of as gruel-like – now it is celebrated and topped with endless combinations of wonderful ingredients.
Ingredients
14p 50g oats, flaked buckwheat or spelt
11p 1 stick rhubarb
21p 15g hazelnuts
4p 2 tsp molasses or dark sugar
Place the rhubarb and hazelnuts on a tray in the oven at 190C/370F/gas mark 5 for 10 minutes. Simmer the oats with 150ml of water and a pinch of salt, stirring until it thickens, adding more water if necessary. Top with the nuts, rhubarb and molasses.
Lunch
Eat like Yotam Ottolenghi and make colourful lunch salads using nutritious grains, seeds, dried fruit and seasonal vegetables. Use up the odds and ends from the fridge and take advantage of those leftovers. My pesto pasta recipe is a great example of how you can make a meal out of store cupboard ingredients and everyday vegetables.
Sample recipe:
Carrot- and beetroot-top pesto pasta
1 portion = 72p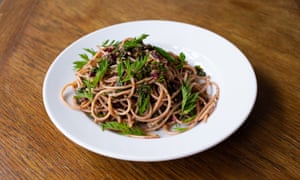 Edible greens from root vegetables are delicious ingredients in their own right. Use them to replace pricier greens in dishes such as this one to reduce the overall cost of your shopping.
Ingredients
33p 100g wholemeal pasta
5p 2 tsp vinegar
16p 1 tbsp olive oil
5p 25g carrot tops or herbs, washed
5p 25g beetroot leaves or another root green, washed
5p 10g stale bread
3p 1 small clove garlic
Boil your pasta following the packet instructions. Blend the rest of the ingredients with a pinch of salt. Mix the sauce and pasta together and serve topped with more carrot leaves.
Dinner
Time to be creative: cook simply and channel your grandparents with classics, whether it's shepherd's pie or a nut roast. Otherwise, invent your own dish. With fresh vegetables, you can't go wrong. Roast, saute or simmer vegetables, toss them with herbs or toasted spices and serve them with a grain of your choice. About 50g of rye, barley, spelt or rice (10-16p) is a good portion. Or be inventive and concoct your own soup or stew to use up the withered vegetables hiding at the back of the fridge.
Sample recipe:
Spiced rice, roasted broccoli, carrot and peanut salad
1 portion = 92p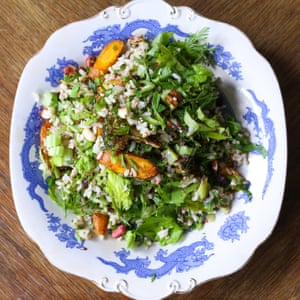 I live off salads such as this. They are very forgiving; go to town and experiment with what ingredients you have. Base your salad on a grain, and use vegetables – raw or cooked – for colour, nuts or seeds for crunch and dried fruit for a little sweetness.
Ingredients
24p 50g short-grain brown rice, boiled
25p ¼ head broccoli, cut into florets, stalk cut into 2-3cm pieces
7p 1 small carrot with leaves
16p 1 tbsp olive oil
5p 25g celery tops, chopped
8p 15g peanuts, toasted
8p 15g raisins
5p 1 heaped tsp garam masala
6p green chilli, sliced
Remove the carrot leaves, and wash and cut them up finely. Slice the carrot and toss with the broccoli and olive oil. Roast in the oven at 200C/390F/gas mark 6 for 15 minutes, or until the edges are charred. Mix with the other ingredients, season and serve.
Read more:
https://www.theguardian.com/lifeandstyle/2018/jun/21/how-to-eat-like-chef-less-than-20-pounds-week-thrifty-recipes?utm_source=pocket&utm_medium=email&utm_campaign=pockethits